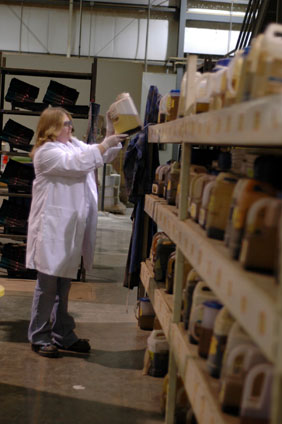 FAQ
Q: Why is your incense better? Why does it cost more?
A. We use only the highest quality fragrances. Our greatest concern is the excellence of our fragrances. Fragrances must smell on the stick as they do when burned, and they must be true to their nature. We also use up to ten times the amount of fragrance oils used by other brands. Our 11" sticks burn for over an hour. The end result is a treat for the senses that is undeniably Wild Berry.
Q: Why should I order directly from Wild Berry for my store?
A. We are retailers at heart, and understand a retailer's needs. Our staff is friendly, knowledgable, and eager to assist you. Even though our products are sold all over the world, you will always get one-on-one assistance. We also help you with merchandising through our effective display materials -- point of purchase signs, door signs, and our simple inventory system are included with each starter kit.
Q: Can I order an oak display unit without carrying Wild Berry Incense?
A. No. Our oak displays are for use in displaying Wild Berry products only.
Q: What is your average ship time? Can I select a shipping carrier?
A. We ship most orders within 24 hours via UPS or FedEx Ground. Others shipping methods are available. You can get more details about shipping at our Shipping & Terms page.
Q: Do you have an order minimum?
A. Yes. The minimum opening order is $350.00. The minimum re-order is $85.00.
Q: Are the styles and colors of burners pictured the only ones available?
A. No. Due to the amount of items we provide not all colors or variations can be pictured. Many of the items we carry are of varying styles, and some come assorted. We do our best to keep a variety of items in stock. If you have specific questions, please Contact Us.
Q: Do you offer NET 30 terms for wholesale orders?
A. Yes. Once your credit application is submitted, the approval process takes approximately 14 business days. You can find more information about terms and conditions on our Shipping & Terms page.
Q: Why does the "hold" amount on my credit card account differ from the invoice amount? Why are there two charges on my credit card account?
A. All credit card orders are pre-authorized for the subtotal plus 15% to cover estimated shipping. Orders under $100 are charged a "hold" amount of $115. Actual total is charged at time of shipping. Depending upon your bank, the "hold" amount may remain on your account even after the invoice is charged.
Q: What if I'm not satisfied with the product? Or what if I need to return goods?
A. We offer you a no risk guarantee. If for any reason you are not satisfied with our product, we will buy back your remaining stock. If for some other reason you need further information about our return policies, please Contact Us.

Please Contact Us with any further questions.